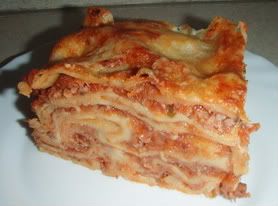 Pas mus namuose dabar vieši sesers vaikas (4,5m.), o dar mano pačios du vaikinai, tai jie pasižiūrėję Garfildas II, užsisakė lazanijos, tokios kurią gamino ir valgė Garfildas :). Teko pavargti, bet smagu, kad nereikėjo zyzti ir prašyti, kad prarytų nors kąsnelį. Valgė, kad net ausys lapsėjo :)
Jums reikės
1 pakelio lazanijos lakštų (500 g. , ant pakelio paskaitykite, kad jų nereikėtų apvirti), 100 g. sūrio Džiugas, bei 300g. paprasto fermentinio sūrio (žinoma būtų skanaiu su čedaru ar jo pakaitalu, bet tiks ir paprastas);
Bolonese padažui:
2 svogūnai, 2 morkos, kelios skiltelės česnako, 500 g. faršo, 200 g. pievagrybių, 0.5 stiklinės balto vyno, 0.5 stiklinės vandens, 3 šaukštai pomidorų pastos, 200ml skardinė luptų pomidorų savo sultyse, keli šaukštai alyvų aliejaus (kepimui), prieskonių ir druskos;
Bechamel padažui:
50 g. sviesto, 50 g. miltų, 900 ml pieno, druskos, malto muskato.
Bolonese padažas
Puode aliejuje pakepinamas smulkintas svogūnas, smulkinta morka, susmulkintas česnakas. Viską smulkinu virtuviniu kombainu, tad užima tik kelias minutes laiko. Daržovėms apkepus, sudedamas faršas, maišant vis pabadome, kad faršas nesuliptų. Pabaioje dedame smulkintus pievagrybius. Viskas šiek tiek apkepama. Tada įpilama puse stiklinės balto vyno, vandens ir pomidorų pasta. Dar įpilu susmulkintą (smulkintuvo pagalba) skardinės pomidorų savo sultyse turinį. Visas padažas pagardinamas duska, pipirais, baziliku, raudonėliu. Paverdame kelias minutes. Padažas turi būti tirštas.
Bechamel padažas
Ištirpinamas sviestas, jame apkepinami miltai, tada palaipsniui, nuolat maišant pilamas pienas. Padažas pagardinamas druska muskatu ir nuolat maišant užvirinamas. Keletą minučių pavirinamas. Padažas turi būti tokio tirštumo, kaip tešla lietiniams blynams.
Padažai jau paruošti. Galime formuoti pačią lazaniją. Dedami lazanijos lakštai, kurie ištepami pirma Bechamel, o po to Bolonese padažu, pabarstoma tarkuotu sūriu. Ši procedūra kartojama tol, kol baigsis padažai. Viršutinis sluoksnis turi baigtis Bechamel padažu, gausiai apibarstytu sūriu. Kad viršus neišdžiūtų uždėti po mažą gabalėlį sviesto. Lazanija pašaunama į 200 oC įkaitintą orkaitę ir kepama apie 30 minučių, po to dar paliekama 10-20 minučių pastovėti, kad į lakštus geriau įsigertų padažai, nes kitaip viskas plauks ;). Būtinai išlaukite bent 10 min. jei sugebėsite daugiau, dar geriau.
Skanaus!
P.S. Tikrai labai skanu ir nėra taip sunku kaip atrodo. Čia pateiktas klasikinis lazanijos receptas. Beje Bolonese padažą galite valgyti su spageti ar kitais makaronais užsibarstę parmezanu (lietuviškas atitikmuo- Džiugas).
Rodyk draugams